Optimize your Website for search engines with our EasySiteOptimizer.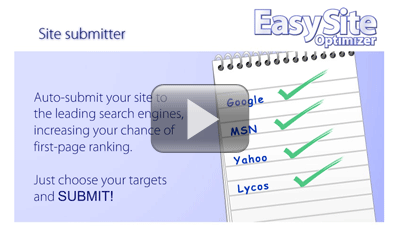 Search engines are the gateway to the Internet. They're typically the first place users go when looking for information. The success of your website – increased traffic, awareness, and revenue – is dependent on good search engine rankings.
EasySiteOptimizer is designed to help you make your site search-engine friendly, maximizing opportunities for your customers to find your site. The intelligent browser-based application offers a suite of tools to select keywords for your index page; analyze your site content and layout; and submit your pages to the most popular search engines.
Initially, search engine optimization services were only available through high-priced consultants. EasySiteOptimizer provides all the tools you need to analyze and enhance your site as often as required.
Features
Keyword Generator

Users are prompted to enter adjectives describing their business enabling the keyword generator to scan search engines to find similar words currently producing high ranking results. The user then has the option to automatically add the chosen words to their index page.

Easily identifies common words and phrases associated with a business type
Suggests words already producing top-ranking results
Saves search results
Allows users to automatically add chosen words to a site's index page

Content Analyzer

The analyzer scans individual site pages to provide suggestions on Meta tags, layout, and content applicable for search engines. Users can edit their HTML code directly within the EasySiteOptimizer application based on the recommendations it provides.

Provides a report card on site optimization weaknesses and suggests ways to improve individual pages
Allows for easy viewing of suggestions and direct editing of site HTML
Displays historical site analysis including number of pages and suggestions

Site Submitter

The submission tool enables users to automatically submit their site to the search engines they choose. Integrated search engines include, Google, Yahoo, MSN, and Lycos.

Informs the internet a website exists
Prompts "searchbots" to identify and review a site quickly
Allows for submission to multiple engines at the same time