Hosting Dog email offers all the tools you need to communicate effectively online.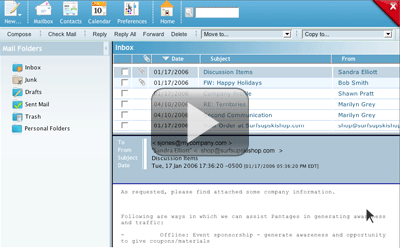 Hosting Dog offers you a full-featured professional email application to effectively communicate and stay connected.
We understand the unique email needs of small businesses, so we offer a comprehensive suite of email applications geared towards improving productivity for small businesses and to make the email experience better for you.
Hosting Dog's email offers all the tools you need to communicate effectively online.
No need to worry about maintaining servers, exceeding your storage limits or working around a branded sub domain. With Hosting Dog email, you receive a 250MB storage mail box with all the functionality you'll ever need to run your business securely and professionally including…
Our webmail gives you access to email in real-time, from virtually anywhere an internet connection exists, be it a desktop computer, laptop or PDA device.
Autoresponders

Save time and respond quickly to customer inquiries with pre-written messages to all or certain emails sent to an email address. This functionality is particularly useful for out-of-office messages, auto marketing, or support replies based on the content within any given email.

Spam Filtering

Prevent unsolicited email (spam) from reaching your mailbox. Every email you receive is evaluated and assigned a point value by an automated filter based on the message's headers and content. One of three things can be done with email flagged as Spam: "Tag and Deliver", "Delete" or "Quarantine".

Catch-alls

Redirect improperly addressed email messages sent to your domain to an identified catch-all email address.

Aliases

Set up unlimited marketing or department-based mail addresses that automatically forward to an existing individual's account.

IMAP (if supported within plan)

Access email messages on a remote server without having to download them to a local hard drive. Perfect for professionals who travel and access their email from different systems.

POP Mail

Access email messages while offline by downloading and reading mail on your hard drive.