Unleash your Website with WebsiteOS™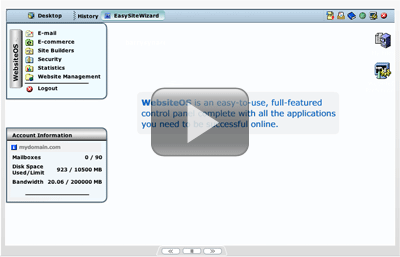 The WebsiteOS control panel is a browser-based application that gives you the ability to manage every aspect of your website through one intuitive interface. Easily create a professional business and ecommerce-enabled website, administer your email accounts, enhance customer service, market your website to increase customer traffic, manage your files and much more.
Essential End-User Tools for Self Management
WebsiteOS provides you with all the essential tools you need to effectively manage and promote your website – as well as the advanced features you want.
Ad Manager
Announcer
Appointment Scheduler
Business Mail Pro with SyncSuite
Database Manager
EasyBlogBuilder™
EasyLiveChat™
EasyMail™
EasySiteOptimizer
EasySiteWizard™
EasySiteWizard Pro
EasyStoreMaker™
EasyStoreMaker™ Pro
Email Virus Scan
File Manager
FrontPage Manager
Help files
Log Manager
OsCommerce Templates
Photo Album
ProStores™
Site Promoter
Site Checker
SSL Manager
Advanced Template Gallery
Web Security
Web Stats
WebMail